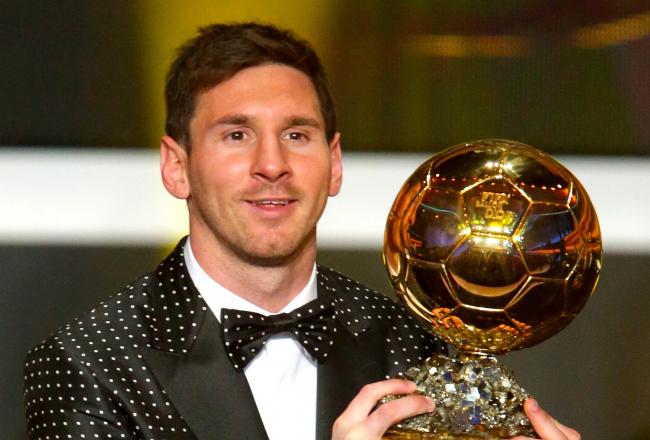 January 07, 2013 Lionel Messi won his fourth straight FIFA Ballon Do'r award in a ceremony in Zurich. I would extend my congratulations to the Argentine for his performances throughout the year. The Barcelona player scored an astonishing 91 goals in the calender year of 2012. That is just an unimaginable feat. In terms of the votes, he was followed by Portuguese International and Real Madrid star Cristiano Ronaldo and the Spaniard Andres Iniesta.
Formalities aside, did Leo Messi deserve the award? Should it have been Ronaldo or the technically gifted Iniesta?
In terms of individual brilliance, Messi was outstanding in 2012. He accomplished a feat never seen before in Europe with his record-breaking goal tally. He also added 19 assists. Although with all these individual milestone, Barcelona only managed to win the Copa Del Rey.
Cristiano Ronaldo just wishes he was born in a different generation. Whatever Ronaldo accomplishes individually, Messi seems to double it. Although Ronaldo did not score as many goals as Messi during 2012, he did manage a high tally (only second to of course Messi). There is no arguning that Ronaldo and Messi seem to set La Liga ablaze. Messi scored 91 goals but Ronaldo almost single-handedly won the Spanish League trophy for Madrid. He also led his Portugal to the semi-finals of the Euro 2012, being knocked out on penalties by eventual winners, Spain.
Talking about Spain, the little man Andres Iniesta was absolutely sensational in 2012. He won the inaugural UEFA Player of the Year (UEFA's answer to move away from FIFA after FIFA incorporated the Ballon D'or). He was arguably the best player as he won the MVP award en-route to his consecutive Euro trophy after Spain triumped in 2008 and 2012.
To make a point, I have lost complete interest in this award ever since it was incorporated by FIFA in 2010 and Wesley Sneijder was snubbed. In 2010, Wesley Sneijder won the UEFA Champions League, the Italian Serie A, the Coppa Italia, the Italian Super Cup and the FIFA Club World Cup. Individuality he won UEFA Club Midfielder of the Year and UEFA Club Player of the Year. He was also runner-up in the World Cup with Netherlands. In the same year, his talents were also reward as being the second most best player behind Diego Forlan with the Silver Ball and won the Bronze Shoe in the 2010 World Cup in South. But in Zurich, a more popular, more flamboyant player Lionel Messi who plays for a more popular club (Barcelona) than Sneijder's Inter Milan. My question is how did Messi win the award, he only won La Liga and flopped in the World Cup. He did even score a goal.
Ever since 2010, we have one award to give to the best player in world football, the FIFA Ballon D'or. Previously these were two awards named the FIFA World Player of the Year and the European Ballon D'or respectively. Personally and many football experts agree that the Ballon D'or is more prestigious since it is voted for by football analyst who as they jobs suggest get paid to watch football. Unlike the FIFA World Player of the Year which is voted for by National Team coaches and captains. The latter was just a popularity contest since coaches and captains do not get to watch many football matched because simply they also have to play their respective games. So players from teams like Barcelona, Real Madrid, Manchester Utd all who have international exposure will feature prominently for this award. Unlike the Ballon D'or whereby the voters even watch West Ham v Swansea City or Celta Vigo v Malaga or Bari v Chievo.
Back to Sniejder's argument, if the awards were still separate he would have won the Ballon D'or voted for by football experts and Messi would have won the popularity contest of the FIFA World Player of the Year. That is a fact!
So now I have people asking if Messi deserved the award? He is very popular but it is not a prestigious award anymore. The inclusion of Mario Balotelli and Wayne Rooney who did nothing in 2012 and exclusions of David Silva and Luis Suarez in the prelimenary final 23 men. Again it shows that it is simply a popularity contest.
Back in the day, there was no debate as who is the best in the world when award season comes.
1992: Ballon D'or-Van Basten FIFA World Player:Van Basten
1993: Ballon D'or-Roberto Baggio FIFA World Player: Roberto Baggio
1994: Ballon D'or-Hristo Stoichkov FIFA World Player:
Romario
1995: Ballon D'or-George Weah FIFA World Player: George Weah
1996: Ballon D'or-Mattias Summer FIFA World Player:
Ronaldo
1997: Ballon D'or-Ronaldo FIFA World Player: Ronaldo
1998: Ballon D'or-Zidane, FIFA World Player: Zidane
1999: Ballon D'or-Rivaldo, FIFA World Player: Rivaldo
2000: Ballon D'or-Luis Figo, FIFA World Player:
Zidane
2001: Ballon D'or-Michael Owen (arguable), FIFA World Player:
Luis Figo
2002: Ballon D'or-Ronaldo again, FIFA World Player: Ronaldo
2003: Ballon D'or-Pavel Nedved, FIFA World Player:
Zidane
2004: Ballon D'or-Shevchenko, FIFA World Player:
Ronaldinho
2005: Ballon D'or-Ronaldinho FIFA World Player: Ronaldinho
2006: Ballon D'or-Fabio Cannavaro FIFA World Player: Fabio Cannavaro
2007: Ballon D'or-Kaka FIFA World Player: Kaka
2008: Ballon D'or-Cristiano Ronaldo FIFA World Player: Cristiano Ronaldo
2009: Ballon D'or-Messi FIFA World Player: Messi
All the underlined players who won the FIFA World Player of the Year are way more popular than those who won the Ballon D'or for that year. I can make the case of Stoichkov (former Mamelodi Sundowns coach) who had an untouchable left-foot playing for Barcelona but he was a household name like Romario who played for arguably the most famous country in terms of the footballing world. The very same case with Mathias Summer who played in the unfashionable German Bundesliga, despite winning the UEFA Champions League with Borussia Dortmund, his was less popular that Ronaldo who played in Spain for Barcelona. I am not denying that these players are great. One can also make the case that they have greater popularity because of their greater quality. Like I said, they may or may not deserve it but again it is just popularity contest.
2010: FIFA Ballon D'or: Messi
2011: FIFA Ballon D'or: Messi
2012: FIFA Ballon D'or: Messi UEFA Player of Year: Andres Iniesta
Are we seeing history repeat itself. Personally the FIFA Ballon D'or should be abolished and let FIFA have their award separate from the European Player of the Year. Maybe there is light afterall since UEFA came up with their award in this FIFA darkness.
Please share your thought, comments and opinions. Be careful, don't be like Inzaghi and get caught offside. My name is Mlu. Simple!